This page is dedicated to the businesses and individuals who have made it possible for me to race with WERA.
Please take a few moments of your time to visit their sites and see what they have to offer.
If you purchase from them please let them know you learned of them from my site.

SuperbikeStore.net is the place to get quality parts and service. They carry some of the top names in parts from companies such as Arai, Bazazz , Woodcraft, Galfer, Puig and have some of the most affordable race bodywork on the market from Optimal Racing. Check out their site for the most current list of products they carry.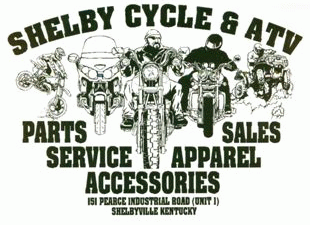 602-647-0057
Owned by Chris Hudson, Shelby Cycle and ATV is located in Shelbyville, KY and is a full service shop. He offers the complete product lines from Parts Unlimited, Drag Specialties, Tucker Rocky and more. They specialize in the installation of all the product lines they sell and offer full maintenance services to keep your machine in top operating condition. From tires to oil changes to major repair you can count on Chris to give you a competitive price and quality work.

In the Southeast, Derek "Stickboy" Bennett is the Bridgestone race tire distributor. From sales to service to technical information on the tires he sells you would be hard pressed to find a better source for your trackday and race tire needs.
Home